Money saving ideas
I'm already starting to feel like I'm going on a bit! Once I start talking I don't stop, so below is yet more chat from me about saving money! If you have any tips you would like to share, please email me on: info@walkmedowntheaisle.co.uk with a little pic of yourself if you would like a photo of you next to your tip!
Make as much as possible!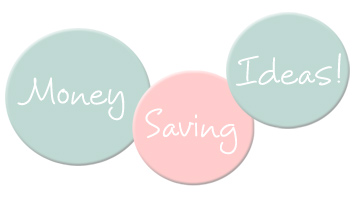 And I mean as much as you can ! I am in no way artistic or remotely creatively talented but the incentive to save money seemed to drive me on. This ranged from idly making confetti cones out of floral drawer liners a couple of months before the wedding to manically assembling the order of services the day before the wedding (by the way newly manicured nails and stick on craft gems do not mix!).
At the bottom of this page there are some websites where things can be downloaded, printed and used for your big day. A word of caution – your fiancée may blanch slightly at the amount of ink this may use. If this situation arises, remind him how much money you would be saving by doing it this way – they like that!
The guest list:
Don't be railroaded into inviting great auntie Nora who no one likes and who you haven't seen since you were dragged to a family gathering when you were six years old. Whilst it would be lovely to invite such people to your big day, weddings are expensive and if you don't want to invite these people, then don't. Its your day! Just be prepared for very sulky family members, and an overwhelming urge to tell busy bodies to get lost.
Wedding photography:
Don't be afraid to ask for a disccount, if you don't ask you don't get! If you are booking fairly near to the date of your wedding and your wedding photographer is available then why not ask if they can offer you a discount on your last minute wedding photography. I asked every wedding supplier I used for their best price or for a discount, you would be suprised what prices you can be offered for your wedding photography, wedding venue or any of your other wedding suppliers!
Plan your budget carefully:
Watch how much you are spending, I found my little purchases added up to be quite a lot. There is a free wedding budget planner here: http://www.moneysavingexpert.com/banking/Budget-planning#tools which is handy.
If you are planning a wedding in a church..
Check to see if another couple are getting married on the same day (or even the day after) to see if you can share the costs of decorating the church. We decided we couldn't afford to decorate the church with flowers etc. and had a lovely surprise when we arrived at the church on our wedding day to find the couple that were getting married the day after had already decorated the church! It would have saved a lot of upset if I had thought about sharing costs with another couple as I would have found that the couple after us had already paid to have the flowers there the day before!
Wedding cake:
We had cupcakes instead of a wedding cake and we served these as desert. It was perfect as lots of our guests commented that they couldn't have managed 3 courses and wedding cake.
Having the wedding cake (or cupcake!) for pudding can save you money as well as saving waste if people cannot manage to eat anymore!
Shop around!
An excuse for more shopping! I never bought anything on the first time of seeing it. When I saw the ties we wanted for the best men, we didn't buy them then and there but went home and shopped around and ended up getting them from the Debenhams website using discount codes found on www.moneysavingexpert.com for about £5 each – bargain!
Deciding on a date:
If you are on a budget, pick an unusual date i.e out of season or a week day, but bear in mind the impact on your guests if you have it on a week day.
Favours:
Be careful how much you spend on favours. I was shocked at how much they cost! We couldn't afford them and son in the end, we put paper sweet shop style bags where the favours traditionally go and invited guests to fill up the bags from the sweetie buffet that we had in the evening. Lots of our guests (mainly adults I hasten to add!) loved the idea and the sweets went down a storm!